Concrete Crack Repair in Lombard, IL
Interior Crack Repairs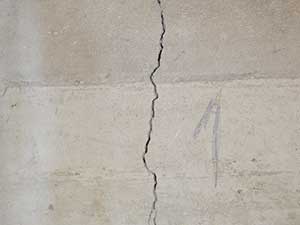 At ULB Dry Waterproofing, we know how to handle interior crack repairs. We service two different types of interior cracks — dirty (previously repaired) and clean (never touched, or virgin). Here is the process for interior crack repairs:
The surface of the crack is cleaned of all loose dirt and other contaminants.
Series of small plastic ports are set directly over the void and held in place with a two-part epoxy mastic.
While waiting for the surface patch to dry the exterior area is checked, and any portion of the crack above grade is sealed to help insure the resin is confined to the wall cavity.
Once the surface patch has cured, an epoxy/urethane resin is injected into the wall crack, starting at the port closest to the floor level.
The injection will continue to this port until the material is forced upward and flows out of the port above.
The injection port is capped towards the top of the foundation until the resin is noted over the upper part of the foundation.
Now you know how to repair interior wall cracks!
Exterior Crack Repairs
At ULB Dry Waterproofing, we know how to handle any exterior crack repairs jobs as well. Here is the repair process for exterior cracks:
A hole is excavated to the top of the footer to expose the crack completely.
The wall/crack is cleaned of all loose dirt and other contaminants.
A "Bento-Seal" paste is applied over the crack from the top of footer up to within 6″ of finish grade. (Bento-Seal is a combination of sodium bentonite and butyl rubber in a paste form.)
The upper portion of the void, as well as any of that above grade, is coated with a one-part polyurethane sealant;otherwise, the seasonal changes in temperature as well as the sun's ultra-violet rays will hurt the Bento-Seal. It has also been shown to have the same negative effects on most all asphalt-based sealants.
A layer of heavy-duty visqueen is embedded into the seal.
A small amount of bentonite powder is dumped into the base of the hole.
A 3-sided form is created using a "Bento-board"/Volclay Type 1 board, and then this form is backfilled around using the existing soil.
Bentonite boarding is a water-soluble cardboard with bentonite power filling in the corrugations.
An additional measure of bentonite powder is filled inside the form up to within 6″ of finish grade.
The remaining portion of the excavation is capped off with the existing soil, leaving a small mound to allow for settling.
All excess soil is removed and disposed of properly.
In the situations where concrete or asphalt is removed, it will be replaced after the area has been allowed enough time to settle properly.
For more information about our interior crack repairs or exterior crack repairs, contact ULB Dry Waterproofing. Call 708-978-7558 to schedule your service today