Crawl Space Encapsulation
Crawl Space Encapsulation & Waterproofing
Whenever you think of keeping your home clean and dry, odds are that you don't think about the crawl space. ULB-DRY Waterproofing is the expert when it comes to crawl space encapsulation methods. Our team of professionals have extensive experience and knowledge in turning your crawl space into a completely sealed and protected part of your home. Don't wait until you have unwanted moisture creeping into the interior of your home. Give our office a call for fast, effective, and friendly service.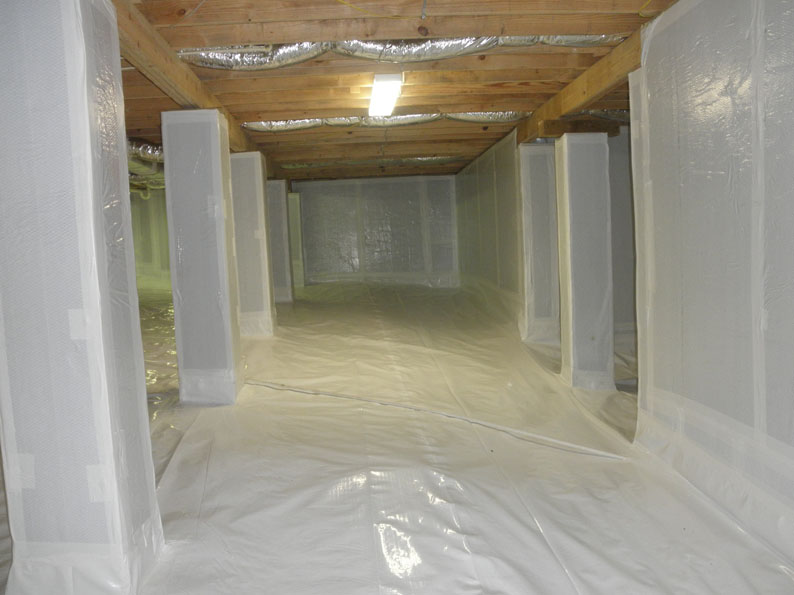 The Encapsulation Process
To help reclaim that dirty musty crawl space, we offer a complete encapsulation of the existing soil crawl. The process we provide includes the following:
We will seal all vents in the area to prevent dirt and dust from spreading into your home.
A perimeter drain tile with sealed sump pump basin will be installed to control any water seepage (if needed).
In cases where excessive soil gases are present, a passive venting system (radon system) will be installed in conjunction with the tile system and discharged to the exterior.
The area between the rim joint will be properly insulated.
A heavy-duty white faced/reflective double insulation/barrier is applied to the soil floor and against the foundation wall.
In order to help control the air humidity, a maintenance-free dehumidifier is installed.
If necessary, we will clean the crawl space of trash and other debris. Depending on the scope of the clean-up, a fee may apply.
If necessary, if there are any cracks present in the wall, we will promptly seal them with our quality sealant. Dependent upon the scope of the repair, a fee may apply.
That once-ugly crawl space is now a safe functional part of your home! With our fast crawl space encapsulation methods, you will never have to worry about moistures or leaks!
For more information about our crawl space encapsulation methods, contact ULB-DRY Waterproofing. Call 708-978-7558 for pricing and scheduling today!