Bentonite Interior Application
There is nothing more durable than a bentonite grout injection. This versatile material can be used for interior application to effectively seal and waterproof your home or business. The experts at ULB-DRY Waterproofing have extensive experience in helping property owners protect their structure by effectively sealing and repairing grout using bentonite injections. Don't trust just any company with your biggest investment. You can depend on the expertise and knowledge of our contractors. If you have any questions about the interior application of bentonite grout injection, contact ULB-DRY Waterproofing today.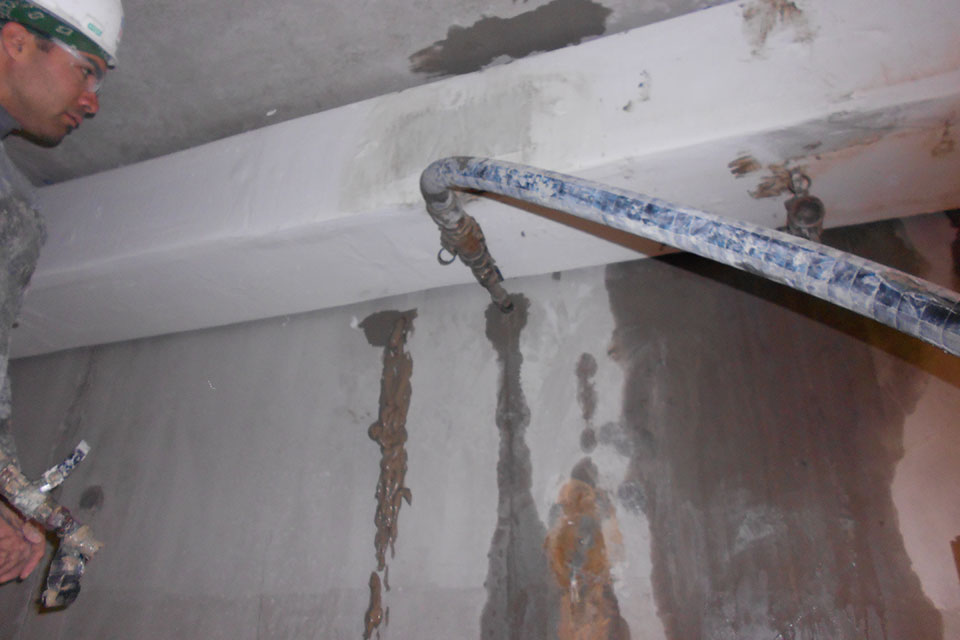 The Interior Application Process
Many companies don't inform their customers on exactly what they do. At ULB-DRY Waterproofing, we are happy to explain the exact process we go through to repair your property. The interior application process includes the following:
A series of 1″ holes are cored through the wall/slab in a 2′ to 3′ grid pattern.
A metal packer complete with a gate valve is secured into the core.
Using a large tow-behind machine, a slurry of "Bentogrout" is injected through the wall, creating a seal on the exterior. Injection will continue into each packer until either the material is noted at an adjacent packer or the backpressure is too great to continue.
Once all the injection is complete, the holes are capped with a light grey waterproof mortar.
Any materials that may have oozed out onto the floor slab or above grade will be scraped up and removed.
Call Us Today
If you notice some leaks in your home, don't wait to call a professional. You could risk costly damage to your property. Have the peace of mind that our professionals are on the job and will use the interior application of bentonite grout injection to get your property back to looking as good as new.
For more information on interior application of bentonite injections, contact ULB-DRY Waterproofing. Call 708-978-7558 for your no obligation estimate.