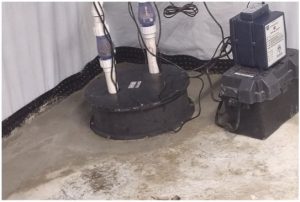 There are several different basement waterproofing methods that are available to homeowners in Park Ridge, Illinois. However, it's not necessary to implement all of them. But what about sump pumps? Do you really need to install a sump pump in your basement?
In all honesty, the answer is "yes". This basement waterproofing company in Park Ridge, Illinois is going to explain why below.
What Does a Sump Pump Do?
A sump pump is responsible for keeping groundwater levels to a minimum. This is important as it pertains to basements, as high levels of groundwater can lead to foundational cracking, and consequently, basement moisture issues.
To install a sump pump, you'll first have to dig a sump basin. This is essentially just a hole that sits in the corner of the basement. The basin is important, as it allows the sump pump to access the groundwater. If the water level rises toward the top of this basin, the sump pump will kick into action, pumping water out rapidly.
In this sense, you can look at the sump pump as the heart of the basement waterproofing system. Like the heart, it actively pumps liquid (in this case, water) so that it's moved from one area to another.
Of all the basement waterproofing entities that are available to Park Ridge homeowners, the sump pump is arguably the most important. If there's one basement waterproofing component you're going to install, it should be a sump pump.
The Benefits of Installing a Sump Pump
Sump pumps offer up several benefits. These benefits include (but aren't limited to) the following:
Helps Keep Your Basement Dry
First and foremost, installing a sump pump in Park Ridge will help keep your basement dry. They do this by keeping water levels low, and by reducing the amount of water that's allowed to pass through cracks in your foundation. If you don't install a sump pump in your Park Ridge basement, your home will have a greater risk of flooding, or at the very least, water seepage.
Maintains Foundational Strength
One of the primary causes of foundation cracks is a scientific phenomenon known as "hydrostatic pressure". This term describes the effect of gravity on water. Gravity will force water against a surface, where it will accumulate. As it accumulates, it places more and more pressure against the surface, causing it to eventually fracture.
This often occurs with home foundations, as groundwater forces itself against the outside of the foundation. However, by removing some of the groundwater that's accumulating around the foundation, you can reduce hydrostatic pressure, which helps prevent cracks.
This is where a sump pump comes in. The sump pump effectively removes groundwater, which ultimately helps maintain the strength of your home's foundation.
Reduces Mold Growth
The final benefit we're going to discuss is the fact that sump pumps help reduce mold growth in your basement. Mold tends to grow in damp places. As such, the more water you can keep out of your basement, the less mold your home will be exposed to.
Sump pumps, of course, reduce the amount of water that's allowed to accumulate outside of a home's foundation. In doing so, they reduce the amount of water that's allowed to pass through foundation cracks.
Looking for a Basement Waterproofing Company in Park Ridge, Illinois?
As you now know, sump pumps are very beneficial. If you're looking to keep your basement dry, it's highly recommended that you install a sump pump in your basement.
Do you need to install a new sump pump? Looking for the top-rated basement waterproofing company in Park Ridge, Illinois? If so, ULB-DRY Waterproofing has you covered. Contact us today to get started.