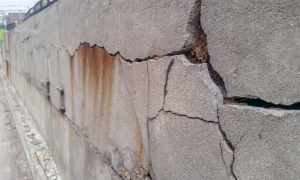 Regardless of what you do, your foundation will eventually develop cracks. These cracks come from a variety of sources and vary from mild to severe.
Unfortunately, they can have a number of negative effects. Not only do they lessen the strength of their corresponding foundations, but they also allow water into their adjacent basements. For this reason, it's wise to have foundation cracks repaired in a timely manner.
Curious as to the benefits of foundation crack repair and basement waterproofing in Palatine? Read on to find out!
Benefits of Repairing Foundation Cracks and Basement Waterproofing in Palatine
Repairing foundation cracks isn't just beneficial, it's also necessary. By repairing your foundation cracks, you will:
Reduce the Amount of Mold in Your Basement
When a foundation crack forms, it provides an avenue through which groundwater can travel. The result of this? Water ends up in the adjoining basement.
While this water won't necessarily pool and flood, it could very well result in other problems, namely mold growth. After all, mold thrives in wet areas.
Want to keep mold growth to a minimum? It's recommended that you fix your foundation cracks.
Increase the Structural Integrity of Your Home
Each time your foundation develops a crack, it loses some of its strength. While these losses of strength are not noticeable initially, they will eventually become glaringly obvious. Not only will your foundation wall start to crumble, but it might even start to cave in.
Want to prevent this from happening? Foundation crack repair is the answer. By fixing cracks as they appear, you can maintain the strength of your foundation and prevent deterioration.
Prevent Flooding
As was noted above, water makes its way through foundation cracks and into adjoining basements. While it's not common, this water can sometimes result in flooding. As such, by repairing foundation cracks, you help to prevent flooding in your basement.
At What Point are Foundation Cracks a Cause for Concern?
While all foundation cracks can allow water into your home, some cracks are more troublesome than others. This is generally due to their length, their width, or their orientation.
For instance, whereas vertical cracks bring only a low level of concern, horizontal cracks are much more troublesome. A horizontal crack is indicative of a slipping basement wall. If not fixed in a timely manner, it can eventually cause the foundation to collapse in on itself.
As you might expect, long cracks are more troubling than short cracks. Anything over 4 inches is approaching "trouble" territory and should be handled sooner rather than later.
Just as longer cracks are more troubling than shorter cracks, wider cracks are more troubling than narrower cracks. If a crack's width reaches ¼ of an inch, you should have it fixed as soon as possible. Cracks under ¼ of an inch should be monitored for changes over time.
How Much Does Foundation Crack Repair Cost?
The cost of foundation crack repair varies wildly depending on the size and orientation of the crack. Whereas small cracks can be fixed for as little as $300, large structural cracks can cost up to $1,000.
If the cracks have your foundation on the verge of collapse, you could pay as much as $10,000 to have them repaired. This is why it's important to repair cracks sooner rather than later.
Looking for Foundation Crack Repair and basement waterproofing in Palatine?
Do you have cracks in your foundation? Looking for foundation crack repair in Palatine? If so, the waterproofers with ULB-DRY Waterproofing are the people to see.
Our team is well-versed in the foundation crack repair process, having fixed thousands of foundation cracks throughout the Palatine area. Regardless of the severity of your basement waterproofing needs, we can repair them.
Contact us now to schedule an appointment!