There are a number of different implements that you can use to keep water out of your basement. While sump pumps and drain tiles are some of the most commonly used waterproofing entities, they aren't the only ones at your disposal.
Another effective waterproofing entity is the waterproofing membrane—a synthetic, adhesive cover that can be attached to your basement wall in order to prevent the inward flow of water. Interested in learning more about basement waterproofing membranes in Western Springs? Then read below. This article has you covered.
What is a Basement Waterproofing Membrane?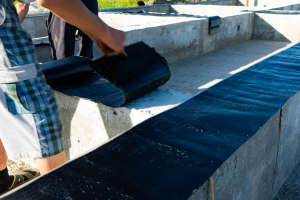 A basement waterproofing membrane is a substance applied to basement walls in order to stop the inward flow of water. Waterproofing membranes can be made out of a variety of materials, including asphalt, plastic, and fiberglass. These materials generally take liquid form, allowing them to be spread as needed across basement walls.
Waterproofing membranes are highly beneficial in eliminating the effects of foundation cracks. Because they're capable of stopping water in its tracks and because they offer foundational reinforcement, they make the existence of these cracks nearly inconsequential.
The Advantages of Basement Waterproofing Membranes
Basement waterproofing membranes come with a number of advantages. The most prominent of these advantages will be reviewed below:
Easy to Install
You might assume that it will take days to have a basement waterproofing membrane installed in your basement. However, the truth of the matter is that the installation of basement waterproofing membranes is a fairly quick process.
The installation process basically includes spreading the liquid membrane substance across your wall and giving it time to dry. Once it has been spread, you can move on with your day and tend to your normal responsibilities.
If you hire a waterproofing company to apply the membrane for you, you should only expect to have workers in your home for a few hours. Membrane installation generally will not require that you give up your entire day.
Reduce the Need for Foundation Crack Repair
Over time, as your basement wall becomes exposed to more and more water damage, it will begin to crack. Unfortunately, this cracking has adverse effects, not only causing your basement to become leaky, but causing your home to lose structural integrity as well.
While a basement waterproofing membrane will not eliminate the need for foundation crack repair, it will reduce it. This is because membranes provide reinforcement to foundations over the entirety of their existence.
Provide Long-term Protection
When compared to other basement wall waterproofing measures (foundation crack repair), waterproofing membranes provide long-term protection. Generally, they will last for around 10 years, essentially ensuring that you won't have to make any repairs for about a decade. Note, however, that in between separate applications, it's wise to repair any existing foundation cracks.
Improve Insulation
Not only do basement waterproofing membranes prevent the entry of moisture, but of heat and cold as well. In other words, basement waterproofing membranes make for terrific insulation. If you want to reduce your energy bills as much as possible, a waterproofing membrane might be a good option for you.
Looking to Install a Basement Waterproofing Membrane in Western Springs?
Interested in installing a basement waterproofing membrane in your Western Springs, Illinois basement? In need of a basement waterproofing company in Western Springs? If so, ULB-DRY Waterproofing is the company to call.
With over 25 years of experience on our side, we have installed waterproofing membranes in countless basements throughout Western Springs and its surrounding areas. Our team of dedicated waterproofers would be happy to serve you.
Contact us now to get the process started!