Looking to improve the habitability of your basement? Tired of mold, moisture, and musty smells? If so, it is best to have your basement waterproofed. There are a range of basement waterproofing entities that you can utilize, but perhaps the most important is the sump pump.
Curious as to how a sump pump can benefit your Elmhurst basement? Then don't stop reading now. We're going to discuss that very topic below.
What is the Purpose of a Sump Pump?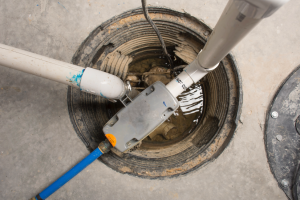 The sump pump is one of the primary components contained within a basement waterproofing system. Responsible for pumping out excess water, it is used to prevent basement flooding in the event of heavy rainfall.
Installed in a basements' sump basins, sump pumps are only put to work when sump basin water levels have reached critical mass. In other words, they only start operating when their corresponding sump basins are about to overflow.
When the time comes, you can expect your sump pump to get the job done. Working in tandem with a drain tile system, it will flush all excess water out far away from your home in order to prevent flooding.
Of all the basement waterproofing entities in existence, the sump pump might very well be the most important. Why? Because it's usually the difference between the total destruction and preservation of your basement.
Sump Pump Options
Many of those who install sump pumps install just a single sump pump. However, you don't have to stop there. There are backup options available. Learn about the different sump pump options by reading below.
Primary Sump Pump
The primary sump pump is exactly what it sounds like it would be: the sump pump that is first in line to defend against flooding. Powered by electricity, primary sump pumps are usually very reliable, but can fail during power outages.
Back-up Sump Pump
Because primary sump pumps are electricity-driven, and because they're vulnerable to power outages, many homeowners opt to install back-up sump pumps as well. Back-up sump pumps are powered by batteries, ensuring that they'll continue to run in the event of a power outage.
Back-up Sump Pump Generator
While back-up sump pumps are typically fairly reliable, they can run out of juice from time to time. To counteract this problem, some homeowners opt to keep back-up sump pump generators on-hand.
These generators can be used to power back-up sump pumps in the event that they're needed. In essence, they're just another line of protection.
Types of Sump Pumps
Sump pumps come in two primary types. These types include submersible and pedestal. Both options will be discussed below.
Submersible
Submersible sump pumps are the most common. These pumps are placed under water, allowing them to begin pumping water as soon as it starts to accumulate. Highly effective, they're built to thrive for decades.
Pedestal
Pedestal sump pumps differ from submersible sump pumps in that they sit at the top of sump basins. Because they're not submerged, they can't begin pump as quickly as submersible pumps can. Nonetheless, they're fairly effective, and will generally get the job done. Pedestal pumps are generally only used when a sump basin isn't wide enough to accommodate a submersible pump.
Make Use of Basement Waterproofing Services in Elmhurst
Hoping to add a sump pump to your basement? Looking to make use of basement waterproofing services in Elmhurst, Illinois? If so, the waterproofing specialists with ULB-DRY are the people to call.
Our team of seasoned and skilled specialists has installed sump pumps in countless homes throughout the Elmhurst area. We would be glad to implement one in your basement as well.
Contact us today to schedule an appointment!