One of the realities of owning a home is dealing with foundation cracks. Regardless of how well you care for your Cicero, Illinois home, cracks will still form in its foundation over time.
Fortunately, foundation cracks are easy to repair. As a homeowner, your biggest responsibility is spotting them and knowing when they're a problem.
That's where this guide comes in. Below, we're going to explain not only the various types of foundation cracks, but what causes foundation cracks to form. Let's get into it!
Types of Foundation Cracks in Cicero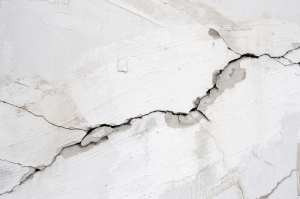 Foundation cracks come in many forms—some of which are a cause for concern, and some of which have little to no effect on your home. The three primary types of foundation cracks include the following:
Vertical Cracks
Vertical cracks form in an up-down manner, sometimes tilting to no more than a 30-degree angle away from the ground. Extremely common, they typically aren't a cause for concern.
These cracks form naturally as a foundation settles, generally within the first couple years of construction. While they may look troublesome, they have very little bearing on the structural integrity of the home.
It's important to note, however, that vertical cracks are still capable of letting through moisture. For this reason, it's usually a good idea to have them repaired.
Horizontal Cracks
Horizontal cracks form in a left-to-right manner, tilting no more than a 30-degree angle away from their adjoining walls. In the vast majority of cases, they are a cause for concern, as they directly compromise the structural integrity of their corresponding homes.
These cracks can be caused by a number of different factors, including poor water drainage, improper foundation installation, and standard hydrostatic pressure. Generally, the thicker these cracks are, the more severe the damage.
For this reason, it's recommended that you have horizontal cracks repaired as soon as possible. If you can catch them early in their existence, you might be able to either limit or prevent damage.
Diagonal Cracks
Diagonal cracks form in an up-down, left-to-right manner, tilting between 30 degrees and 75 degrees from the floor. Generally, diagonal cracks are a sign of structural instability, and should be tended to quickly.
Most diagonal cracks form due to imbalances in their corresponding foundations. These imbalances can be caused by a number of different factors, including improper installation, soil erosion, and uneven land.
As with horizontal cracks, diagonal cracks become more worrisome as they grow wider. Because of this, you'll likely want to have them repaired as soon as possible.
Signs That Your Foundation Cracks are a Cause for Concern
There are ways to tell whether or not your foundation cracks are a legitimate cause for concern.
One of the major signs is the existence of uneven floors. Another big sign is sagging basement walls. These phenomena are caused by serious foundational deterioration, and they might even spell the end of your foundation as you know it.
Smaller signs to look out for include cracked caulk and sticking windows. These indicate a small shift in your foundation—one that could grow worse as time goes on.
Make Use of Foundation Crack Repair and Basement Waterproofing Company in Cicero
Do you have cracks in your foundation? If so, it might be time to have them repaired. If you're looking for basement waterproofing services in Cicero, Illinois, ULB-DRY Waterproofing is the company to call.
Our team of highly experienced waterproofers are well-versed in the repair of foundation cracks and basement waterproofing, having water proofed countless basements throughout the Cicero area. We would be happy to repair your home and protect your basement from water damage.
Contact us now to schedule an appointment!