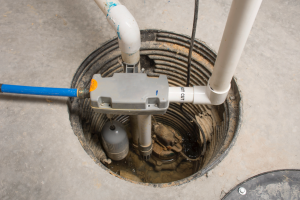 There are all sorts of services and devices that are designed to keep basements dry. By taking advantage of them, homeowners can keep groundwater from seeping into their basement.
Are you interested in learning about some of the most effective basement waterproofing methods that are available today? If so, you've come to the right place. This basement waterproofing company in Deerfield, Illinois is going to review them below.
Sump Pump Installation
The first device we're going to discuss is the sump pump. The sump pump is the heart and soul of the basement waterproofing system. It's the only portion of the system that actively forces out groundwater.
The sump pump sits in a pit known as a sump pit. This is typically dug in the corner of the basement. It serves as an access point for groundwater that surrounds the basement.
When water levels reach a high enough point within the sump pit, the sump pump goes to work, pushing water away from the home. As a result, it ends up far out into the home's yard instead of inside the home itself.
If there's one waterproofing solution you're going to utilize, it should be the sump pump. Sump pumps not only prevent flooding, but they also reduce hydrostatic pressure against the home's foundation, thus reducing foundational cracking.
Foundation Crack Repair
Regardless of what you do to prevent them, foundation cracks will inevitably form. This is just the reality of the situation. This is why, every few years, it's recommended that you repair the cracks in your foundation. Doing so will not only prevent additional groundwater from seeping into your home, but it will also strengthen your foundation, adding years to its lifespan.
If the cracks in your foundation exceed 3 inches in length or a ¼ inch in width, you should strongly consider repairing them. Your local basement waterproofing company in Deerfield, Illinois will be able to assist you with this task.
Drain Tile Installation
Another basement waterproofing solution you should strongly consider is drain tiles. Drain tiles are underground pipes that intercept groundwater then direct it to a different part of the yard. In doing so, they prevent groundwater from building up against the side of a home's foundation, thus reducing the risk of both basement flooding and foundational cracking.
You can install drain tiles on both the interior and exterior of a basement. If you want the best protection possible, your basement waterproofing company in Deerfield, Illinois will recommend both options.
Waterproofing Membrane Application
The last service we're going to discuss is a waterproofing membrane application. A waterproofing membrane is a liquid substance that's spread across the interior of a basement wall. Once it dries, it provides a waterproof barrier that groundwater can't pass through.
Waterproofing membranes aren't a necessary component of a basement waterproofing system. However, when used with other waterproofing components, they provide an even higher level of protection.
The great thing about waterproofing membranes is that they reduce the need for foundation crack repair. For as long as a waterproofing membrane lasts, you won't have to repair any foundation cracks. In most cases, these membranes last around ten years.
Looking for a Basement Waterproofing Company in Deerfield, Illinois?
Are you ready to waterproof your basement? Looking for the premier basement waterproofing company in Deerfield, Illinois? If so, look no further than the professionals at ULB-Dry Waterproofing.
Our crew has waterproofed countless basements throughout Deerfield and its surrounding communities, and we would be happy to do the same for you. Contact us today to schedule an appointment.