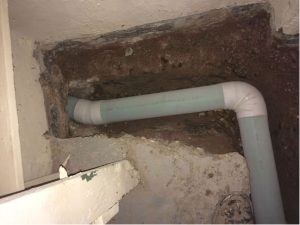 There are all sorts of entities that you can use to waterproof a basement. There are sumps pumps, downspout extensions, basement waterproofing membranes, and much more. With that said, one important waterproofing entity that you might not be familiar with is drain tile.
Drain tile is essentially just a series of piping that's buried underground. Equipped with entrance holes, it catches groundwater and filters it away to a different part of the yard.
Are you thinking about installing drain tile on your property? Interested in learning more about it? This basement waterproofing company in Arlington Heights, Illinois is going to discuss everything you'll need to know below.
The Benefits of Installing Drain Tile:
Reduced Water Pooling Around Your Property
One problem that many homeowners encounter is the problem of pooling water. When heavy thunderstorms roll through, large puddles often form in people's yards and around their foundations. This is an issue not only because it can kill the grass in your yard, but because it increases your risk of basement flooding.
Fortunately, there is a way to help prevent water pooling: you can install drain tile. Drain tile will redirect the water in your yard, transferring it to a different portion of the property so that it doesn't accumulate all in one area.
Reduced Foundational Damage
One issues that typically leads to basement flooding is foundation cracks. What causes foundation cracks? In most cases, they're caused by groundwater accumulation. Groundwater collects against the outside of the foundation, which applies pressure against it until cracks form.
By redirecting some of this water, you can help counteract this problem and reduce the risk of foundation cracks. How can you redirect this groundwater? By having drain tile installed by a reputable Arlington Heights basement waterproofing company.
Drain tile can be installed in the area around your foundation so that it can catch any groundwater that comes toward it. It will catch this groundwater, then transfer it to a different portion of the property, which helps take some of the strain off your foundation.
Less Basement Water Leakage
The final benefit of installing drain tile is that they will reduce the amount of water that ends up in your basement. This is true not only because they transfer water away from the basement, but because they reduce foundational cracking, which is one of the main ways in which water enters a basement in the first place.
How Is Drain Tile Installed?
As mentioned above, drain tile is a series of pipes that are buried underground. For basement waterproofing purposes, they're buried close to the home's foundation — either a few feet to the outside of it, or underneath it.
To secure the drain tile, your Arlington Heights basement waterproofing specialist will surround the pipes with gravel. This gravel helps maintain the flow of groundwater, while also locking the drain tiles into place over time.
If you're interested in installing drain tile, it's strongly recommended that you work with a licensed basement waterproofing company in Arlington Heights. These companies will be able to ensure that your system is installed correctly, helping you avoid future issues.
Ready for a Drain Tile Installation? Contact the Premier Basement Waterproofing Company in Arlington Heights, Illinois
Are you interested in installing drain tile on your property? if so, and if you're looking for the premier basement waterproofing company in Arlington Heights, Illinois, look no further than the team at ULB-DRY Waterproofing.
Our crew has installed drain tile on countless properties throughout Arlington Heights, helping to protect homeowners' basements from flooding. Contact us today to learn how we can help.