When it comes to basement waterproofing entities in Hinsdale, Illinois, there are two components that reign supreme. One of these components is the sump pump. The other is drain tile.
In this article, we're going to focus on drain tiles, discussing its origin and its purpose, as well as the different types of drain tiles that are used to waterproof a Hinsdale basement. Let's begin!
What is Drain Tile?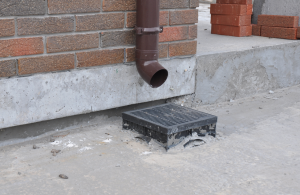 Drain tile is a type of waterproofing entity that collects water and drives it away from a specific area. In the cases of residences, it's used to filter water away from the basement of a home.
Basement drain tile is typically made of plastic, and it can be buried both along the interior and exterior of a basement wall. Usually connected to the sump basin, it collects water pumped out by the sump pump and carries this water away from the corresponding house.
Drain tile is a key part of most basement waterproofing systems because it is vital in removing any water that has already made its way into a basement.
The Origins of Drain Tiles
While drainage systems have existed since the time of the ancient Romans, drain tiles didn't make its first appearance until the 19th century. Introduced by an America-residing Scotsman named John Johnston in 1838, it was used to help drain agricultural fields during times of heavy rainfall.
Drain tile's popularity grew in the fields, spreading across the United States throughout the rest of the 19th century. It wasn't until the late 1800s that homeowners began using it in their basements.
Nonetheless, once homeowners realized the efficacy of drain tiles in basements, its popularity grew. These days, drain tiles are an important part of many basement waterproofing system throughout the Chicagoland area.
Types of Drain Tiles
When it comes to basement drain tiles, there are two different types. One of these is interior drain tile, while the other is exterior drain tile. We will review the installation of both below.
Interior Drain Tile
True to its name, interior drain tile is installed at the interior base of a basement wall. The installation begins with the breaking up of the concrete floor.
Once the concrete has been smashed, a trench will be dug to around 10 inches deep, sloping just slightly. Then, the tile will be laid in the trench adjacent to the basement's sump basin. If a sump basin does not already exist, one will be dug.
After the trench has been dug and after the drain tile has been laid, a water-absorbent gravel will be placed around it. Then, after the gravel is leveled to the top of the trench, it will be covered by a mat. Finally, fresh cement will be poured, covering the drain tile in its entirety.
Exterior Drain Tile
Exterior drain tile installation is fairly similar to interior drain tile installation. The only big difference between the two is that the trench for exterior drain tile is dug outside, and that a plywood board is placed at the bottom of the trench. Apart from this, they follow the same general installation guidelines.
Looking to Install Drain Tile in Your Hinsdale Basement?
Are you interested in installing drain tile in your Hinsdale basement? If so, and if you're looking for professional basement waterproofing in Hinsdale, Illinois, we here at ULB-DRY are the people to see.
Our team has installed drain tile in countless homes throughout Hinsdale and its surrounding areas. Regardless of whether you're looking to install interior drain tile, exterior drain tile, or both, we can accommodate you.
Contact us today to begin the process!