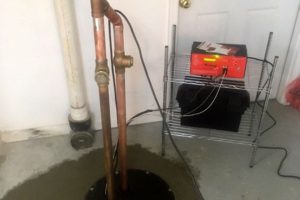 Of all the basement waterproofing entities that are available, there is one system that's most impactful: the sump pump. The sump pump is the only basement waterproofing system that actively works against groundwater to keep your basement dry.
Are you looking for some general information about sump pumps and their overall importance? This sump pump installer in Highland Park, Illinois is going to discuss some of the key things you should know below.
What Does a Sump Pump Do?
First, let's discuss what a sump pump does. A sump pump essentially pumps groundwater away from a home's foundation. In doing so, it reduces hydrostatic pressure against said foundation, thereby reducing the risk of foundation cracking and indoor water seepage. A sump pump also actively prevents flooding by quickly pumping away excess amounts of water.
The sump pump sits in a water basin known as a sump pit. This is typically dug in the corner of a basement, and it provides access to groundwater that surrounds the home.
The sump pump is the single most important part of any basement waterproofing system. Without it, a basement becomes particularly vulnerable to flooding, even if other waterproofing measures are in place.
If you're only going to install one basement waterproofing entity, it should be a sump pump. Your local sump pump installer in Highland Park, Illinois can help you find the right system for your home.
Primary Sump Pump vs Secondary Sump Pump
In most cases, it's wise to install two sump pumps: the primary sump pump and the secondary sump pump. There is an important reason for this, and it all boils down to power outages.
The primary sump pump is powered by electricity. Therefore, when the power is on, it's the pump that's in action.
Unfortunately, power outages occur, often during moments when a sump pump is truly needed (like during rainstorms, for instance). When these outages occur, primary sump pumps become non-functional. This creates the need for secondary sump pumps.
Secondary sump pumps are battery powered and continue to run even when the power goes out. These can save a home from flooding — even in times when the electricity is out.
Any knowledgeable sump pump installer in Highland Park, Illinois will recommend installing both types of systems. If you don't, your home could flood during a power outage.
Submersible Sump Pump vs Pedestal Sump Pump
There are two general types of sump pumps: submersible sump pumps and pedestal sump pumps. The type you install will depend on the size of your sump pit, along with your budget.
Submersible sump pumps go down inside of sump pits. They're highly powerful and have no trouble pumping out sediment. They also tend to last longer than pedestal sump pumps, though they also cost more as well. If you have a budget big enough and a sump pit wide enough, your sump pump installer in Highland Park, Illinois will typically recommend this option.
Pedestal sump pumps sit above their respective sump pits. They're equipped with hoses that lead down into the sump pits below. While they struggle to deal with sediment, they have no trouble pumping out water. As was noted, these don't last as long as submersible sump pumps. However, if your sump pit is narrow, they might be the only viable choice.
Looking for a Sump Pump Installer in Highland Park, Illinois?
Are you ready to have a new sump pump installed at your property? If so, and if you're looking for the best sump pump installer in Highland Park, Illinois, ULB-DRY Waterproofing is the company to call.
We have installed sump pumps in countless properties throughout the Highland Park area, and we would be happy to do the same for you. Contact us today to schedule an appointment.