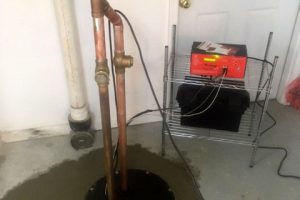 If you're looking to waterproof your Elmhurst basement, one system you'll want to familiarize yourself with is the sump pump. Sump pumps work to periodically pump water out of your basement, keeping it dry.
Are you interested in learning more about these types of systems? If so, you've come to the right place. This sump pump company in Elmhurst, Illinois is going to discuss everything you'll need to know below.
Types of Sump Pumps
There are two main types of sump pumps that homeowners can choose from: submersible sump pumps and pedestal sump pumps. We're going to discuss the specifics of each below.
Submersible Sump Pumps
Submersible sump pumps sit within the sump pit itself, floating atop the groundwater that inhabits the pit. These pumps do a great job of pumping not only groundwater but sand and sediment as well. Though they're more expensive than pedestal sump pumps, they're also more effective. Not to mention, they last longer.
If you have the budget, and if your sump pit is big enough, this is the type of sump pump you should opt for. Any knowledgeable sump pump company in Elmhurst, Illinois will agree that this system is more beneficial in the long run.
Pedestal Sump Pumps
Pedestal sump pumps sit above their respective sump pits, utilizing a hose as a means of accessing the groundwater below. While they're not as efficient or as effective as submersible sump pumps, they still get the job done.
The issue is that they struggle with sand and sediment. Plus, they don't last as long as submersible sump pumps. However, considering their low price, they might very well be the best option for your home. If you're not sure which option to go with, your local sump pump company in Elmhurst, Illinois can help you decide.
What Benefit Does a Sump Pump Serve?
The point of a sump pump is to lower groundwater levels around a home's foundation. The sump pump sits within a sump pit. This is a hole dug in the corner of a basement. It enables the pump to access groundwater, and it allows the pump to start pumping whenever water levels grow too high.
In doing so, it serves two major benefits: 1. It reduces hydrostatic pressure on the home's foundation, and 2. It reduces the risk of flooding. This allows for less foundational cracking and less interior property damage as well.
In truth, the sump pump is the most important component in any basement waterproofing system. It's the only component that actively works against the infiltration of groundwater, and therefore, it's one of the most important waterproofing entities you can install.
How Much Is a Sump Pump?
You might be curious as to the price of a sump pump. In truth, it can vary quite a bit depending on which sump pump company in Elmhurst, Illinois you work with. Whereas a pedestal sump pump generally costs somewhere between $150 and $350, a submersible sump pump costs between $500 and $900.
These figures don't include the cost of installation. A pedestal sump pump usually runs between $500 and $750 for installation. A submersible sump pump runs between $750 and $1,200 for installation.
Note, though, that submersible sump pumps last longer. In fact, in many cases, they're the more cost-effective option in the long run.
Want more detailed information on the cost of a sump pump? Give us a call.
Looking for the Premier Sump Pump Company in Elmhurst, Illinois?
Are you interested in installing a sump pump? Looking for the premier sump pump company in Elmhurst, Illinois? If so, the experts at ULB-DRY Waterproofing are here to help.
We have installed sump pumps in countless properties throughout the Elmhurst area, and we'd be happy to do the same for you. Contact us today to get started.