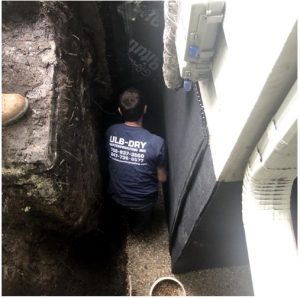 If you are a homeowner in the Midwest, and if you have a basement, it's important that you take precautions to keep it dry. After all, basements are built underground, and with the amount of groundwater that's present in this region, basements are at a higher risk of flooding.
Fortunately, there are several things you can do to reduce your risk of basement flooding. Are you interested in learning about the various basement waterproofing methods that are available? This basement waterproofing company in Des Plaines, Illinois is going to review them below.
Downspout Extension Installation
The first method we're going to discuss is downspout extension installation. This involves placing long tubes on the end of a home's downspouts. It serves to lengthen the downspouts, preventing roof water from emptying directly next to the home's foundation.
This is highly beneficial, as the more water the foundation is exposed to, the faster it starts to deteriorate and crack. As such, by installing downspout extensions, you can help prevent water from pooling next to your foundation, which helps protect it over time.
If you're interested in installing downspout extensions, your local Des Plaines waterproofing company will be happy to help.
Sump Pump Installation
The next waterproofing method we're going to discuss is the sump pump installation. The sump pump is like the heart of the basement waterproofing system. It works by gauging groundwater levels, then pumps out excess water once levels reach a certain point. As such, these systems help prevent flooding, and they also help prevent hydrostatic pressure from damaging the home's foundation.
A sump pump is installed inside of a sump pit. This is simply a hole in the ground that is dug in the corner of the home's basement. It gives the sump pump access to the groundwater, allowing it to work its magic.
If there's one waterproofing entity you're going to install, it should be this one. Sump pumps go a long way in protecting your basement from flooding.
Foundation Crack Repair
Over time, as a foundation is exposed to more and more groundwater, it can start to form cracks. These cracks become avenues for groundwater to flow through, which exposes the basement to more and more moisture as time passes.
If not repaired in a timely manner, foundation cracks can eventually cause a basement to flood. As such, it's strongly recommended that you have your foundation cracks repaired periodically. Fixing your foundation cracks will not only keep water out of your basement, but it will also strengthen your foundation altogether.
Need help fixing the cracks in your foundation? Your local foundation crack repair company in Des Plaines, Illinois would be happy to help.
Drain Tile Installation
The last waterproofing method we're going to discuss is drain tile installation. This involves burying a pipe underground so that it can catch groundwater and redirect it to a different part of the yard. It helps to reduce hydrostatic pressure against a home's foundation, which results in less foundational deterioration over time.
You can install drain tiles both on the outside of your foundation and underneath your foundation. Depending on your property, your Des Plaines basement waterproofing company may recommend both.
Drain tiles can be effective on their own. Note, though, that they're often used in tandem with sump pumps. As always, your local basement waterproofing company in Des Plaines can help you decide which setup would work best for your home.
Looking for the Best Basement Waterproofing Company in Des Plaines, Illinois?
Are you interested in waterproofing your basement? Looking to partner with the best basement waterproofing company in Des Plaines, Illinois? If so, ULB-DRY Waterproofing is the company to call.
We have implemented the basement waterproofing methods reviewed above in countless homes throughout the Des Plaines area, and we'd be happy to do the same for your home. Contact us today to discuss your needs.