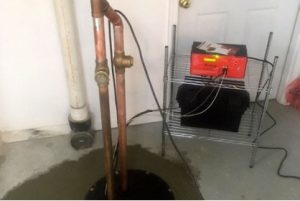 If you live in the Downers Grove area, you've likely heard about sump pumps before. You might even have an idea as to what sump pumps do. However, the question is: do you really need to install a sump pump in Downers Grove, Illinois?
The answer to this is a little more complicated than a 'yes' or 'no'. Below, this basement waterproofing company in Downers Grove, Illinois is going to help you to decide whether you should install a sump pump in your home.
The Purpose of a Sump Pump
The purpose of installing a sump pump in Downers Grove is to evacuate groundwater that exists around a home's foundation. It does this to reduce hydrostatic pressure against the foundation, and to reduce the risk of flooding within the home's basement.
Sump pumps are placed inside of a hole known as a sump pit. This is essentially an access area for groundwater. It's dug in the corner of a basement, and it's typically filled with some level of standing water.
As water levels in the sump pit rise, the sump pump kicks into action, pumping out water to reduce the amount of groundwater near the home's foundation. Once the water level in the sump pit is down to a reasonable level once again, the sump pump will shut off and wait for levels to rise.
Pedestal Sump Pump vs Submersible Sump Pump
There are two primary types of sump pumps: pedestal sump pumps and submersible sump pumps. We're going to discuss both in detail below.
Pedestal Sump Pumps
Pedestal sump pumps sit above sump pits. They're equipped with hose components that snake down into the pit. In general, they're not as effective as submersible pumps. This is because they do a poor job of handling solid objects like stones and sediment. One thing to note here is that, if you have a very narrow sump pit, a pedestal pump might be the only option that will suffice.
Submersible Sump Pumps
Submersible sump pumps sit down inside of their respective sump pits. As such, they're able to work faster and harder than are pedestal sump pumps. Not only can they handle water, but solid materials like sediment, wood, etc.
In most cases, submersible sump pumps last longer than pedestal sump pumps. As such, if you have the choice, a submersible pump is the recommended type of sump pump in Downers Grove, Illinois.
The Importance of a Backup Sump Pump in Downers Grove
In general, when a basement has a sump pump system installed, it will be comprised of two individual sump pumps. One of these is the active sump pump, which runs on electricity and does most of the work. The other is the backup sump pump, which runs on battery power and kicks into action whenever the electricity-powered sump pump fails.
Why is it important to have a backup sump pump in Downers Grove? To protect your home when the power goes out during a storm. If you don't have a pump that can operate without electricity, your basement will be much more vulnerable to flooding.
In essence, if you're going to install one sump pump, you would be wise to also install a backup sump pump. When all is said and done, it could be the difference between a flooded basement and a dry one.
Are You Ready to Install a Sump Pump in Downers Grove, Illinois?
Is a sump pump right for your basement? Are you looking to install a sump pump in Downers Grove, Illinois? If so, the experts at ULB-DRY Waterproofing have you covered.
Our team has installed sump pumps in countless homes throughout the Downers Grove area. Whether you want to install a pedestal sump pump or a submersible pump, our crew will get the job done right. Contact us today to get started.