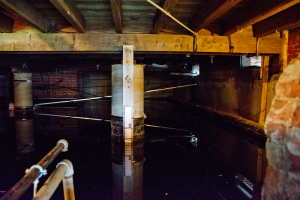 When it comes to waterproofing a basement, there are all sorts of things you can do. Some methods are more effective than others. However, in general, several methods are needed to provide a high level of protection.
Are you interested in learning more about your options for basement waterproofing? Below, this Basement waterproofing company in Westmont, Illinois is going to discuss everything you'll need to know.
Sump Pump Installation
We'll start off by discussing the sump pump installation process. This involves digging a sump pit in the corner of your basement, then installing a sump pump inside of it. The pump gauges groundwater levels within the sump pit, and then pumps water out when levels reach a certain height.
In doing so, the sump pump reduces hydrostatic pressure around your foundation, which ultimately reduces the risk of flooding. If there's any basement waterproofing method that you're going to implement, it should be a sump pump.
A sump pump is essentially the heart of a basement waterproofing system. It actively evacuates water during heavy storms, ensuring your basement remains dry. If you would like to install a sump pump, your Westmont basement waterproofing company can get it done.
Foundation Crack Repair
Regardless of what you do to prevent it, your foundation is sure to form cracks at some point. Every time a new crack forms, your basement will become slightly more vulnerable to moisture. As such, at some point, you'll need to repair the cracks in your foundation. If you ignore them, your basement will be prone not only to flooding, but to mold growth and musty smells as well.
Now, you don't necessarily have to repair every crack as soon as it forms. However, if the crack is more than an eighth of an inch wide, or more than 3 inches in length, it's recommended that you fix it as soon as possible. Your local basement waterproofing company in Westmont can help you with this task.
Drain Tile Installation
Another basement waterproofing method to consider is drain tile installation. This involves installing a system of pipes underground near a home's foundation. These pipes catch groundwater as it passes by, then redirect it so that it doesn't remain near the foundation. In doing so, they reduce hydrostatic pressure and the risk of foundation cracks.
Drain tiles aren't always necessary for all homes. However, when working in tandem with sump pumps, they are highly effective. As such, if you want the best basement waterproofing system possible, it's strongly recommended that you install drain tiles.
Downspout Extensions
When water hits your roof, it should flow down into a gutter system, where it's then sent down through a system of downspouts. Unfortunately, downspouts often empty water right next to a home's foundation, causing water to pool against the home every time it rains.
Fortunately, there's a way around this. All you'll have to do is install downspout extensions. These can add a few feet to your downspouts, thereby ensuring that roof water doesn't evacuate directly next to your foundation. As always, your local basement waterproofing company in Westmont can help you install downspout extensions.
Basement Waterproofing Membrane
The last waterproofing method we're going to discuss is the basement waterproofing membrane. This is a liquid that is spread on the inside of a basement wall. After drying, it waterproofs the wall, keeping the basement safe from moisture for the next decade or so.
These membranes are effective in that they can help you avoid the need for foundation crack repair. As such, they can potentially save you time and money over the years. Plus, because they're so effective in blocking the inward flow of water, they offer peace of mind.
Looking for the Premier Basement Waterproofing Company in Westmont, Illinois?
Are you ready to waterproof your basement? Are you looking for the top-rated basement waterproofing company in Westmont, Illinois? If so, ULB-DRY Waterproofing is the company to call. We have installed waterproofing entities in countless basements throughout the Westmont area over the years, and we would be more than happy to do the same for your basement.
Contact us today to schedule an appointment.