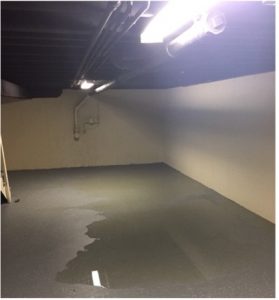 Do you own a home in Lake Forest, Illinois that has a basement? If so, you should be aware that basements in this area are almost constantly vulnerable to water exposure.
The question you might have now, is: why does this matter? In other words, what's the importance of basement waterproofing in Lake Forest, Illinois? We're going to discuss everything you'll need to know below.
The Risks of Not Waterproofing Your Basement
Basement waterproofing in Lake Forest, Illinois is imperative for several reasons. If you don't waterproof your basement, you'll risk facing the following consequences:
Basement Flooding
When cracks form in a basement's foundation, they provide a path for groundwater to flow through. During heavy storms, groundwater can pass through these cracks very quickly, resulting in basement flooding.
However, by patching up these cracks, and by limiting the amount of water that sits around your home's foundation (with the use of sump pumps and drain tiles), you can keep basement flooding at bay.
Mold Growth
Another consequence of failing to waterproof your basement is mold growth. Mold thrives in areas where there's moisture. As such, if water is present in your basement, mold is bound to appear there eventually as well.
By waterproofing your Lake Forest basement, you can eliminate most of the water in your basement. This will make the space less desirable for mold, which is one less problem you'll have to deal with.
Musty Smells
In addition to creating a welcoming area for mold, wet basements also create a welcoming area for musty smells. This is because moisture traps dust, pet dander, and other allergens, creating an environment where their individual scents are forced to linger in the air.
Want to get rid of musty smells? If so, you'll first need to get rid of moisture. Basement waterproofing is the key.
Dust Accumulation
Dust is bound to form in your basement, regardless of what you do to avoid it. However, there are some things you can do to limit dust accumulation. One of these is to waterproof your basement.
How can waterproofing help? Because dust is attracted to moisture, the particles tend to cling to each other. Therefore, by getting rid of moisture in your basement, you are getting rid of the element that attracts dust.
Damaged Possessions
It doesn't matter whether you use your Lake Forest basement for recreation or for extra storage — if it has items in it, they will be prone to water damage. Even a little bit of water can cause serious damage to furniture, electronics, carpeting, and more.
As such, if you want to keep your possessions safe, it's important to keep basement moisture to a minimum. How can you do this? Basement waterproofing is the answer.
Whereas a sump pump and drain tiles will help prevent flooding, foundation crack repair will help prevent water seepage. Are you interested in installing any waterproofing entities in your basement? Your Lake Forest basement waterproofing company can help.
Foundational Deterioration
One of the biggest consequences of not waterproofing your basement is that your foundation will suffer. The more water that your foundation is exposed to, the more stress it will take on, and the more cracks it will take on. Over time, these cracks can cause your foundation to deteriorate to the point where your basement caves in on itself.
This is where basement waterproofing, and in particular, foundation crack repair, comes into the picture. Not only will foundation crack repair prevent water from making its way into your basement, but it will also strengthen your foundation altogether.
Looking for the Best Basement Waterproofing Company in Lake Forest, Illinois?
Are you interested in waterproofing your basement? Looking for the best basement waterproofing company in Lake Forest, Illinois? If so, look no further than ULB-DRY Waterproofing. Regardless of your waterproofing needs, our experts have you covered. Contact us today to get started.