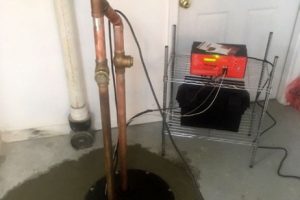 Because basements exist underground, they are constantly subject to water exposure. Rainwater seeps down into the soil and rests against the outside of the basement walls, eventually causing cracks. Then, unfortunately, water flows inside the basement, causing a host of issues.
For this reason, basement waterproofing entities have been invented as a means of keeping basements dry and habitable. Are you curious about the different waterproofing services in Arlington Heights, Illinois that are available? We are going to review the main services below.
Sump Pump Installation
Perhaps the most impactful basement waterproofing service is a sump pump installation. This involves digging a sump pit in the corner of the basement, then installing a sump pump inside of it.
Groundwater will make its way to the sump pump, causing its levels to rise. The job of the sump pump is to gauge these water levels and then kick into action once they've grown too high.
Effectively, sump pumps prevent basements from flooding. However, they also help to reduce hydrostatic pressure on the exteriors of foundations. This helps to reduce foundation cracks, which ultimately helps reduce the amount of water that enters the basement over time.
If there's one basement waterproofing service in Arlington Heights that you're going to take advantage of, it should be a sump pump installation. The sump pump acts like the beating heart of the basement waterproofing system, and it goes a long way in keeping your basement dry.
Foundation Crack Repair
As was noted above, over time, groundwater can cause foundations to crack. These cracks then become avenues for groundwater to flow through.
Foundation cracks can also cause foundations to lose some of their structural integrity, thus resulting in degradation over the years. As such, it's important to have your foundation cracks repaired regularly.
If you ever need foundation crack repair services, your local basement waterproofing company in Arlington Heights can assist you. They will patch up the crack on both the interior and exterior of your home's foundation, preventing groundwater from seeping in and returning your foundation to its prime strength.
Drain Tile Installation
Another way to get groundwater away from your home's foundation is to install drain tiles. Drain tiles are small pipes that you bury underground. They are designed to catch groundwater and then filter it to a different area of the yard.
In doing so, drain tiles can prevent water from pooling too closely to the home, which saves your foundation substantial amounts of stress. This results in fewer foundation cracks, fewer avenues for water to flow through, and a dryer home in general.
Are you interested in a drain tile installation in Arlington Heights, Illinois? If so, your local basement waterproofing company is the place to call.
Downspout Extensions
Every roof should have a drainage system that consists of a set of gutters that lead to a set of downspouts.
The trouble with some properties, unfortunately, is that the downspouts empty right next to the home's foundation. This can cause pooling around the foundation, which can lead to undue damage.
The solution? You can install downspout extensions. These will extend the length of your downspouts, ensuring that they empty rainwater further away from your home. As always, if you're interested in installing extensions on your downspouts, you can reach out to your local Arlington Heights basement waterproofing company
Do You Need Basement Waterproofing Services in Arlington Heights, Illinois?
Does your home need any of the services reviewed above? Are you looking for the top-rated basement waterproofing company in Arlington Heights, Illinois? If so, look no further than the experts at ULB-Dry Waterproofing. Contact us today to learn how we can help keep your home or business dry.