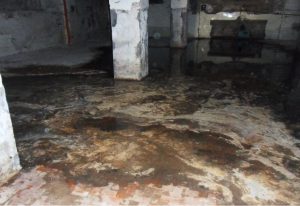 You've probably heard a thing or two about basement waterproofing in Downers Grove. However, you might be wondering: why is basement waterproofing necessary in the first place? How is water even able to make its way into a basement?
Great questions, and they're ones that we're going to answer for you in detail. Without further ado, here is why basement waterproofing is necessary for Downers Grove homeowners.
Understanding Hydrostatic Pressure
If you want to understand why water makes its way into basements, you'll first have to understand the concept of hydrostatic pressure. Hydrostatic pressure describes the process of gravity forcing water in a downward direction against a solid surface. In the case of basements, groundwater is forced against the side of a home's foundation.
Over time, this puts pressure against the foundation, causing it to crack and deteriorate. After some time, this can open a path for water to flow through. It's at this point that basement waterproofing becomes a necessity.
Other Factors That Lead to Foundation Cracks
While hydrostatic pressure is the primary source of foundation cracks (and therefore basement moisture), it's not the only source. There are several other factors that can lead to foundation cracks in a Downers Grove home, including the following:
Shifting Soil
Over time, soil shifts. This is a natural occurrence, and there's not much we can do to prevent it. Unfortunately, in some cases, shifting soil can cause a foundation to shift along with it. This leads to cracking, which in turn, leads to basement moisture.
Improper Foundation Installation
Another factor that can cause foundation cracking is improper foundational installation. If a foundation isn't installed in the proper manner, it can deteriorate long before its time. This soon leads to cracking, which leads to water seepage in your Downers Grove basement.
Tree Roots
One more factor that can lead to foundation cracking is tree roots. If tree roots grow into the side of a foundation, they can cause it to split in certain areas. The more the roots grow over time, the more damage it can cause to a foundation, leading to more leakage and structural issues.
If you find that there are tree roots growing into your foundation, you'll want to have them removed as soon as possible. If you wait too long, you might end up having to repair your entire foundation.
Common Methods of Basement Waterproofing
There are many methods of waterproofing a basement in Downers Grove. Some of the most common and effective methods include the following:
Sump Pump Installation
Sump pumps expel groundwater around the home once it reaches a certain level. In doing so, they reduce hydrostatic pressure, as well as the risk of basement flooding in general. These systems act as the beating heart of a basement waterproofing system. If you're going to waterproof your basement, it's wise to start by installing a sump pump.
Drain Tile Installation
Drain tiles are essentially pipes that transfer groundwater from place to place. They collect groundwater from around a home's foundation and filter it out further into the corresponding yard. In doing so, they reduce hydrostatic pressure, and keep water seepage to a minimum.
Foundation Crack Repair
Regardless of what you do to prevent it, your Downers Grove foundation will eventually form cracks. The important thing is that you fix these cracks in a timely manner. The key here is to utilize foundation crack repair services. Professional foundation crack repair involves injecting a sealant into each crack, ensuring that it contains no gaps.
Looking for a Basement Waterproofing Company in Downers Grove, Illinois?
Interested in waterproofing your basement? Looking for a basement waterproofing company in Downers Grove, Illinois? If so, ULB-DRY Waterproofing is the company to call.
We've waterproofed countless basements throughout the Downers Grove area. Regardless of your waterproofing needs, our team of waterproofers can accommodate you.
Contact us today to get the process started!