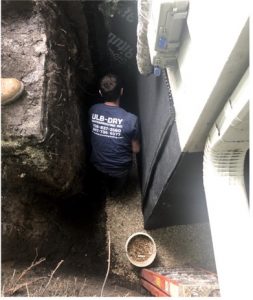 Basements are positioned in such a way that they are susceptible to water seepage. As such, if you want to keep your home dry, it's recommended that you implement a number of different basement waterproofing solutions.
One solution that many homeowners consider is the basement waterproofing membrane. Are you curious as to what this is and how it can benefit you? This West Chicago basement waterproofing company is going to explain everything you'll need to know below.
What Is a Basement Waterproofing Membrane?
We'll begin by discussing what a basement waterproofing membrane is. Simply put, it's a membrane that waterproofs your basement. However, it's a little more complex than that.
In essence, a waterproofing membrane is a liquid substance that's applied to basement walls. Once it's applied, it then dries and creates a water-tight seal. Waterproofing membranes last for around ten years, and during that time, it's very unlikely that groundwater will make its way through them.
Understanding the Benefits of Basement Waterproofing Membranes
Basement waterproofing membranes provide a variety of benefits. The most prominent of these benefits include the following:
Prevent Groundwater from Seeping into Your Home
Perhaps the biggest benefit of waterproofing membranes is that they prevent groundwater from seeping into your basement. As such, as long as your waterproofing membrane is intact, you won't have to worry about groundwater seeping through your basement walls. This will lead to less flooding, less mold growth, less musty smells, and a variety of other benefits.
Improve Insulation
Not only do waterproofing membranes stop the flow of water, but heat and cold as well. In other words, they provide insulation to your basement. They are not designed to be used as your only form of insulation, but they do add another layer of protection — especially in those cold winter months.
Maintain Structural Integrity
The more cracks a foundation has, the more its structural integrity becomes compromised. As such, by delaying the formation of foundation cracks, you can work to maintain your foundation's structural integrity.
How do you go about delaying foundation cracks? A basement waterproofing membrane is a good start. Your membrane will protect your foundation from water, temporarily eliminating the risk of water-based cracks and deterioration.
Save Time
When you don't have a membrane over your basement walls, foundation cracks will be much more likely to form. These foundation cracks will, of course, need to be fixed as they appear. Fixing foundation cracks can take a great deal of time, effort, and money.
By installing a waterproofing membrane around your basement walls, and thus preventing foundation cracks for the foreseeable future, you can save yourself a substantial amount of time. As we mentioned above, waterproofing membranes last for about ten years — that's ten years of not having to worry about foundation crack repair.
Reduce Mold Growth
Basements are infamous for mold growth. This is, as you might expect, due to the moisture levels in basements. The more water a basement takes on, the more mold it will take on as well.
Installing a basement waterproofing membrane will significantly reduce the amount of mold that forms in your basement. This will, in turn, result in better air quality inside the home.
Are You Looking for a West Chicago Basement Waterproofing Company?
Are you interested in installing a basement waterproofing membrane? Looking for a reputable West Chicago basement waterproofing company? If so, we here at ULB-DRY Waterproofing have you covered.
We've installed basement waterproofing membranes in countless West Chicago homes, and we can protect your basement as well. Contact us today to get the process started!