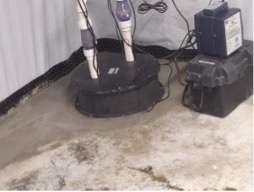 If you live in the Glenview area, you may have heard a thing or two about sump pumps. You might even have a general idea as to what sump pumps are. But the question is: should you install a sump pump in your home?
If your home has a basement, the answer is 'yes'. Curious as to why? Take it from a Glenview basement waterproofing company — we're going to explain the importance of installing a sump pump.
What Does a Sump Pump Do?
First, you might be wondering: what exactly does a sump pump do? In short, a sump pump prevents a basement from flooding.
Over time, groundwater can accumulate on the outside of a basement's walls. As more of this water accumulates, it can cause these walls to form cracks. Once this occurs, groundwater can start flowing through these cracks, causing the basement to take on moisture.
The sump pump is installed within a sump pit, which is a hole dug in the ground that's meant to expose the groundwater that surrounds the house. Any time the water in this hole reaches a certain level, the sump pump goes to work, pumping out the water.
In addition to preventing basement flooding, sump pumps also help prevent foundation cracks from forming. This, in turn, helps to maintain the structural integrity of the home, saving you money in repairs over the long run.
One thing to note here is that most basements contain two different sump pumps. The first is the primary sump pump. It runs on electricity and operates when the home's electrical system is in full function. The other sump pump is the backup sump pump. It is battery-operated, and it kicks on after the home's power has gone out.
Working together, and when installed correctly, these two sump pumps make it very unlikely for groundwater to flood a basement. Therefore, if you're going to opt for a sump pump, you should consider doubling up.
What Does the Sump Pump Prevent?
The sump pump prevents a few different problems. These problems include (but aren't necessarily limited to) the following:
Flooding
A basement flood not only damages the home, but also the furniture and items you store in your home. Fortunately, sump pumps are very effective at preventing basement flooding when you have the right system installed.
Mold Growth
Where water goes, mold soon follows. As such, by preventing groundwater from entering your basement, sump pumps also help prevent mold growth. This can help keep your home looking nice, and it can help keep the air free of allergens.
Foul Smells
Basement water is notorious for creating dirty and musty smells. The more water that's leaking into your basement, the more odorous it will become. As such, by installing a sump pump to keep water at bay, you can greatly reduce any foul smells.
Foundation Cracks
Foundation cracks are commonly caused by hydrostatic pressure. This pressure comes about as more and more groundwater accumulates around the foundation. Note, though, that if you can eliminate some of this water, hydrostatic pressure will reduce, and there will be less risk of your foundation cracking.
What's the key to reducing hydrostatic pressure? Installing a sump pump. The sump pump will eliminate a good portion of the groundwater around the foundation, which helps keep foundation cracks to a minimum.
Looking for a Basement Waterproofing Company in Glenview, Illinois?
Are you interested in installing a sump pump in your basement? Looking for the help of a Glenview basement waterproofing company? If so, we here at ULB-Dry Waterproofing are ready to help.
We have installed sump pumps in countless basements throughout the Glenview area and beyond. We're here to help you protect your basement from taking on moisture.
Contact us today to get the process started!