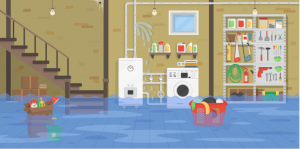 Most homes have many different rooms and areas. However, no one room is more susceptible to water damage than the basement. Basements exist underground, and because of this, they're highly vulnerable to groundwater. As a result, in order to keep a home's basement dry at all times, it should be waterproofed.
Are you wondering what happens if you don't waterproof your basement? Then read below. Here are five reasons to make use of a Northbrook basement waterproofing service:
1. To Prevent Mold Growth
There's a very simple rule to keep in mind: where water goes, mold soon follows. As such, basements — which are perpetually exposed to groundwater — are particularly prone to mold.
Fortunately, however, there is a way to proactively prevent the growth of mold in your basement. All you have to do is have your basement waterproofed. By fixing foundation cracks and by installing entities like sump pumps and drain tiles, you can keep water out of your basement, thus avoiding mold as well.
2. To Keep Your Possessions Safe
If you have a basement in your Northbrook home, there's a good chance that you, at the very least, use it for storage. If you're like many homeowners, you might even use it as a recreational area. In either case, your basement is likely filled with a number of possessions.
Now, there's nothing wrong with storing possessions in your basement. Note, however, that basements can very quickly take on water if you do not take the necessary steps to prevent it. With that being said, if you don't want your possessions to be destroyed in a flood, it's strongly recommended that you waterproof your basement.
3. To Maintain Your Foundation
A big part of basement waterproofing is repairing foundation cracks. By repairing these cracks, you can prevent the inward flow of water and avoid flooding, mold growth, and a number of other problems.
Note, though, that repairing these cracks doesn't only stop the inward flow of water. It also helps to maintain the structural integrity of your foundation. By patching up trouble spots in your foundation, you will prevent it from deteriorating further. This promotes a longer lifespan and a more structurally sound home overall.
4. To Increase Energy Efficiency
Another reason that it's important to waterproof your basement is that it will improve the energy efficiency in your home. After all, it's not just moisture that's making its way through foundation cracks — it's heat and cold as well.
By sealing off these cracks, your home will be better insulated. As a result, your air conditioner and furnace won't have to work as hard, and you won't have to use as much energy. This will help you save money each month in the form of reduced energy bills.
5. To Turn Your Basement into a Habitable Room
Though you could conceivably use an un-waterproofed basement as a recreational room, you're likely to encounter a number of problems. These problems run the gamut from mold growth, to flooding, and more.
If you really want to turn your basement into a habitable room, it's best that you have it waterproofed. Waterproofing will eliminate the above-reviewed issues, allowing you to use your basement without stress or discomfort.
Make Use of Northbrook Basement Waterproofing Services
Do you want to protect your basement from moisture, mold, and other water-related issues? Are you in need of a Northbrook basement waterproofing service? If so, ULB-Dry Waterproofing is the company to call.
We have waterproofed countless basements throughout the Northbrook area, installing sump pumps, drain tiles, and a variety of other waterproofing entities. Our team would be happy to waterproof your basement as well.
Contact us today to discuss your waterproofing needs!