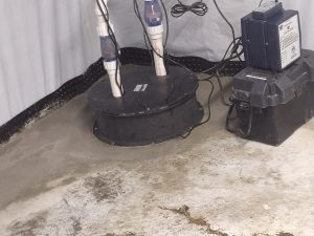 There are all sorts of basement waterproofing entities out there. These vary from drain tiles, to waterproofing membranes, and much more. However, if there's one specific waterproofing entity that you're going to install in your home, it should be the sump pump.
Are you curious as to why? Interested in learning more about the basics of the sump pump? Then read below. We're going to explain the importance of the sump pump as it relates to basement waterproofing in Lake Forest, Illinois.
Understanding the Function of the Sump Pump
To put it as simply as possible, sump pumps keep groundwater levels to a minimum. That's to say that they reduce the amount of water that pools around the foundations of homes. In doing so, they reduce foundational hydrostatic pressure, which also reduces foundation cracks and basement water in general.
Sump pumps are installed inside of holes known as sump pits. These pits are dug deep so as to attract groundwater around the home. Once the water in the hole reaches a certain height, the sump pump goes to work, pumping it out to an area that's away from the home's foundation.
These devices are the most important basement waterproofing entities available. They are essentially like the heart of their respective waterproofing system, and they prevent mass flooding during rainstorms and other water-related occurrences.
If there's one basement waterproofing entity that you're going to install in your Lake Forest home, it should be the sump pump. They'll keep your basement free of pooling water, thus protecting your home and possessions.
Types of Sump Pumps
There are two types of sump pumps: pedestal sump pumps, and submersible sump pumps. Whereas the pedestal sump pump stands over the sump pit and reaches down into it as a means of pumping water, the submersible sump pump is actually submerged in the sump pit, doing its work from below the water's surface.
In most cases, the submersible model is recommended. It's important to note, however, that in cases where the sump pit is narrow, it could be necessary to use a pedestal model instead.
Primary Unit vs Backup Unit
While some homes make use of only a single sump pump, many homes make use of two. The first is known as the primary sump pump, while the other is known as the backup sump pump. We'll discuss both in detail below.
Primary Sump Pump
The primary sump pump is the first line of defense. Powered by electricity and plugged into an electrical outlet, it's running at almost all times. As long as your home's power is still on, your primary sump pump will be active.
Backup Sump Pump
The backup sump pump is the second line of defense. Its responsibility is to kick in during power outages. This system is powered by battery, and it's only used in rare occasions. If you live in an area where rain, lightning, and snowstorms are common, it's recommended that you install a backup sump pump as well.
Cost of Sump Pump Installation
Sump pump installation costs can vary based on a number of factors. However, in general, you can have a sump pump installed for anywhere between $1,200 and $2,500. This price includes the sump pump itself, and it also ensures that your system is installed correctly.
In Need of Basement Waterproofing in Lake Forest?
Are you interested in installing a sump pump in your home? Are you in need of basement waterproofing services in Lake Forest, Illinois? If so, ULB-Dry Waterproofing is the company to call.
We've installed sump pumps in countless homes throughout the Lake Forest area and beyond. Regardless of your sump pump needs, our basement waterproofering team can help.
Contact us today to begin the process!