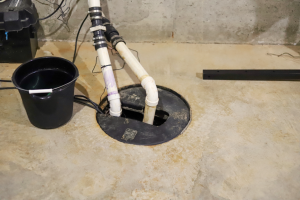 Due to your basement being underground, it is much more vulnerable to moisture than other parts of your home. Over time, water can absolutely decimate a basement, causing a range of functional problems.
Fortunately, however, basements can be waterproofed. Are you curious as to how you can waterproof your basement? Take it from a Wilmette basement waterproofing company: here are 4 basement waterproofing methods to consider.
1. Foundation Crack Repair
As time passes, foundations start to crack. As a result, foundations can turn into welcoming avenues for groundwater, allowing it to pass through easily. This can result in everything from basement flooding, to mold growth, and more.
Fortunately, foundation cracks can easily be repaired by a professional waterproofing company. Repairing your foundation will not only prevent water seepage, but it will provide a stronger foundation overall.
2. Drain Tile Installation
You can seal up every crack in your foundation, but if a big enough storm hits, you may still end up with water in your basement. This is just a fact of owning a home in the Chicagoland area. As such, foundation crack repair alone isn't always sufficient. You'll likely want to install some other waterproofing entities as well.
One of the most popular of these entities is a drain tile system. A drain tile system is essentially a series of pipes that catches water and redirects it from the inside of a basement (or around a home's foundation), back outside the home.
Drain tile can be installed on both the interiors and exteriors of foundations. Exterior drain tile systems reduce hydrostatic pressure, allowing for fewer foundation cracks. Interior drain tile systems help prevent flooding. Ideally, it's recommended that you install both in order to keep your home as dry as possible.
3. Sump Pump Installation
Perhaps the most popular of all basement waterproofing entities is the sump pump. Sump pumps sit inside sump pits, pumping out water so that it doesn't reach dangerous levels. Sometimes used in tandem with drain tile, sump pumps are essentially the beating heart of any basement waterproofing system.
Sump pumps are not only great for preventing flooding. They also reduce hydrostatic pressure on the outside of the basement's walls. In doing so, they help prevent foundation cracks, resulting in less water seepage over time.
It's important to note here that some homeowners opt to install two sump pumps: one that operates on electricity, and one that operates on battery. The latter kicks in during power outages, keeping water levels down during severe storms. If you're serious about waterproofing your basement, a sump pump should be on your list of necessities.
4. Yard Grading
One of the biggest keys to waterproofing a basement is to prevent water from making its way toward the basement in the first place. The less water that exists around the home's foundation, the better off the basement will be.
The question is: how can you prevent water from collecting at the base of a home? The answer: yard grading. Yard grading is the process of re-shaping the yard so that it slopes away from the corresponding home's foundation. It's an extensive project, but it can make a world of difference.
In Need of a Wilmette Basement Waterproofing Company?
Are you looking to repair the cracks in your foundation, implement a sump pump or drain tile system, or grade your yard?
If so, and if you're looking for the services of a Wilmette basement waterproofing company, ULB-Dry Waterproofing is here to help. Regardless of your needs, we can accommodate them in a timely and professional manner.
Contact us today to request a free quote!