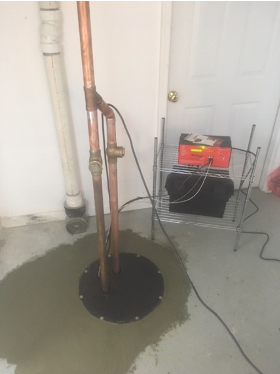 Are you looking to improve the livability of your basement? Are you tired of moisture and musty odors? If so, you should consider basement waterproofing, and in particular, you should consider installing a sump pump.
However, before you make a purchase, you'll want to make sure you do your research. Is a sump pump right for your basement? This Palatine basement waterproofing company is here to help you decide.
What's the Point of a Sump Pump?
The sump pump is one of the main entities comprising a basement waterproofing system. Used to flush out water, it effectively prevents flooding during times of rapid rainfall.
Sump pumps are installed inside of a sump basin. This way, if their respective sump basin fills up to too high, the sump pump can go to work and keep groundwater at a safe level.
Though drain tiles are arguably equally as important, sump pumps are considered to be the most important part of any basement waterproofing system. They alone can be the difference between flooding and not flooding.
Establishing Your Sump Pump System
Many of those who utilize sump pumps utilize only a single sump pump. That said, you don't have to stop at one. Some homeowners use two. Here's why:
The Importance of the Primary Sump Pump
Aptly named, the primary sump pump is, well, the primary sump pump. It's the sump pump that kicks in first in the event of a flood. Electrically powered, it is exceedingly reliable, but does sometimes fail to perform its function in the midst of power outages.
Back-up Sump Pump
The reason that some homeowners use two sump pumps is that they employ back-up sump pumps. These sump pumps are battery-powered and are designed to supplement primary sump pumps in the event of power outages. If you live in an area where storms and power outages are common, installing a back-up sump pump might be a good idea.
Back-up Sump Pump Generator
When the electricity is working, back-up sump pumps are charged by their corresponding homes' electrical systems. However, if the power goes out for an extended period of time, these electrical systems are no longer up to the task.
This is where sump pump generators can come in handy. These entities keep back-up sump pumps charged, even in the midst of a power outage. In doing so, they essentially ensure that their corresponding basements won't flood.
Types of Sump Pumps
There are two primary types of sump pumps. These include submersible sump pumps and pedestal sump pumps. Let's discuss both below.
Submersible
The most common type of sump pump, the submersible sump pump is kept under water at all times, allowing it to pump water almost as soon as levels start to rise. Exceedingly durable, they generally last for decades.
Pedestal
Pedestal sump pumps are a little different from submersible sump pumps, as they sit over the tops of their corresponding sump pits instead of sitting inside of them. When compared to submersible sump pumps, they're not quite as responsive. That said, they're still quite effective.
Note, however, that pedestal pumps are typically only utilized when the sump basin isn't big enough to encase a submersible pump.
Looking for a Palatine Basement Waterproofing Company?
Is a sump pump right for your basement? If so, and if you're looking for a Palatine basement waterproofing company, ULB-Dry Waterproofing can help. 
Our team of waterproofing specialists is well-versed in the installation of all types of sump pumps. Whether you need a submersible pump, a pedestal pump, a backup sump pump, or a sump pump generator, we can accommodate you.
Contact us today to schedule an appointment!