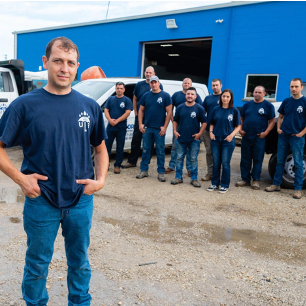 Are you ready to turn your unfinished basement into a livable space? If so, one of the first things you should do is call a trusted Wilmette basement waterproofing company.
The only question you have now is: which one should you call? That's a good question, and one that can be answered by assessing a few key components. Without further ado, here are some tips for finding the right Wilmette basement waterproofing company. 
Sufficient Experience
While new waterproofing companies might be able to get the job done for you, you want to be careful about risking your time and money on a company that's yet to be proven. Instead, it's recommended that you hire a company with ample experience in the field.
We recommend choosing a waterproofing company that's been in business for at least 2 years. In many cases, the more years of experience a company has, the higher level of service that company will provide.
Adequate Insurance
Whenever you bring a contractor into your house, you'll want to ensure that he or she has insurance. If a contractor lacks insurance, and if he or she causes damage to your house, you could be held responsible for those damages. On the other hand, if a contractor does have insurance, he or she will likely pay for any damages without resistance.
There are two types of insurance that a basement waterproofing company should possess. One is general liability insurance, and the other is workers' compensation insurance. Make sure to ask for proof of both.
A Solid Reputation
Few things say more about a business than its reputation. If a company has a generally good reputation, it has obviously performed quality work in the past. Conversely, if a company has a generally negative reputation, it likely comes up short on a regular basis.
There are a number of ways to assess the reputation of a specific waterproofing company. That said, your best option is to utilize review sites such as Facebook, Google, and Yelp. These sites contain reviews from real-life customers. If they show generally good reviews of your prospective waterproofing company, you can bet (within reason) that the waterproofing company is worth a hire.
Efficient Work
When calling various waterproofing companies in your area, you should inquire about their working methods. In addition to asking about how they would complete your project, you should also ask how long it will take them to complete your project.
Many waterproofing tasks can be completed within a day. Note, though, that some take longer. You'll want to have an idea as to how long you'll have waterproofing contractors working in your house.
Affordable Rates
The last thing to inquire about when looking for a basement waterproofing company is cost. Basement waterproofers come with a wide variety of rates. You'll want to be sure that your prospective waterproofing company's rates are reasonable before work begins. Fortunately, any respectable waterproofing company will provide you with an estimate upon inquiry.
One thing to note here is that you should be wary of the companies with the cheapest rates available. They could be compensating for something (poor service, lack of experience, etc.). Generally speaking, it's best to choose a company with middling to high rates, as they're more likely to put in the requisite level of work.
Looking for a Wilmette Basement Waterproofing Company?
Are you in search of a reputable Wilmette basement waterproofing company? If so, ULB-Dry Waterproofing is the company to call.
We have over 25 years of experience in the field, having waterproofed a number of basements throughout the Wilmette area. Our team would be more than happy to work with you as well.
Contact us now to get the process started!