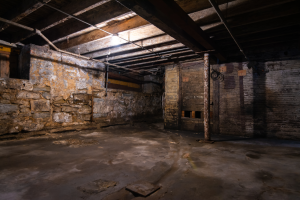 It's not just your basement that's prone to water exposure. Your crawl space is vulnerable to it as well. As such, many La Grange homeowners choose to have them encapsulated.
Wondering what crawl space encapsulation is? Curious as to what crawl space encapsulation entails? Then read below. Here is everything you need to know about crawl space encapsulation in La Grange.
What Does a Crawl Space Encapsulation Entail?
A crawl space encapsulation is a process in which a crawl space is cut off from the soil that surrounds it. It includes the installation and use of a number of different entities.
The primary entity used to encapsulate a crawl space is the encapsulation lining itself. This waterproofing entity fits around the edges of the crawl space, creating a barrier between it and the adjacent soil. In doing so, it prevents the inward flow of humidity and groundwater.
However, there's more to a crawl space encapsulation than just the lining installation. In addition to installing the lining, the waterproofers may also install drain tile. This drain tile will exist on the exterior of the crawl space, and it helps to filter water away from it.
Another part of the encapsulation process may be the installation of a dehumidifier. This will be placed in the middle of the crawl space, and it's used to keep humidity at a reasonable level.
In some cases, a radon system will be installed as well. This will be used to keep radon (a radioactive substance) to a minimum.
What are the Benefits of Crawl Space Encapsulation?
Crawl space encapsulation comes with a variety of benefits. The primary benefits of crawl space encapsulation include the following.
A Reduction in Moisture
One of the main benefits of crawl space encapsulation is a reduction in moisture. After all, encapsulating a crawl space is essentially like wrapping it in a waterproof glove. As such, water has very little chance of ever making its way inside.
The benefit of this? A reduced risk of mold, dust buildup, and musty smells. Not to mention, a reduced risk of flooding as well.
Higher Air Quality
When water flows into a crawl space, it tends to bring mold, dust, and mildew along with it. Unfortunately, when mold, dust, and mildew are allowed to remain over prolonged periods of time, they begin to enter into the corresponding airstream, significantly reducing its quality. Not only can this cause the home environment to become stuffy and uncomfortable, but it can also lead to allergies.
Want to maintain the highest air quality possible? If so, it's recommended that you encapsulate your crawl space. A crawl space encapsulation will prevent the inward flow of water, which prevents the buildup of mold, dust, and mildew. As a result, your air quality will be much higher than it would otherwise be.
Optimal Energy Efficiency
Not only does an encapsulated crawl space prevent the inward flow of water, but of heat and cold as well. In other words, it provides increased insulation.
Because it provides increased insulation, it takes some of the strain off of the home's furnace and air conditioner, allowing them to work much more efficiently than they would otherwise. The result of this? Lower energy costs and reduced wear and tear on the HVAC system as a whole.
In Need of Crawl Space Encapsulation in La Grange?
Is your crawl space vulnerable? Are you in need of crawl space encapsulation in La Grange? If so, the basement waterproofers with ULB-DRY Waterproofing are here to help.
Our team has encapsulated countless crawl spaces throughout the La Grange area. We would be more than happy to encapsulate yours as well.
Contact us today to schedule an appointment!