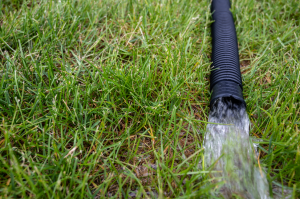 One of the keys to making a basement habitable is to prevent moisture from making its way into it. Moisture is detrimental not only because it causes direct damage to possessions, but because it leads to the growth of mold and creates musty smells as well.
Fortunately, there's an exceedingly reliable way to keep moisture out of a basement: basement waterproofing. Basement waterproofing companies in Chicago provide a number of services, all of which serve to reduce the inward flow of moisture. Curious as to what these services are? Read below to find out!
Sump Pump Installation
The sump pump is essentially the beating heart of any basement waterproofing system. Responsible for pumping out water before it's able to create flooding conditions, it is a necessity for every Chicagoland homeowner who wants to keep his or her basement dry.
There are two different types of sump pumps: electrical sump pumps and battery-powered sump pumps. Most homeowners opt to have both installed so that they can maintain functionality in the event of a power outage.
Drain Tile Installation
Another service you might consider using is drain tile installation. Drain tile is responsible for filtering out the water in sump basins and areas under the ground. Existing next to the sump basin, it extends to the outer parts of the corresponding yard, where it eventually dumps evacuated water.
Drain tile is common in the vast majority of basement waterproofing systems. If you want to keep your basement from flooding, it's recommended that you have it installed.
Downspout Extension Installation
When rain hits your roof and runs down into your gutters, it empties at the bottom of your downspouts. Downspouts generally extend around 2 feet away from the base of a house, meaning that they empty water in close proximity to the home's foundation.
Unfortunately, emptying water so close to a foundation can have major consequences. Namely, it can cause the foundation to experience premature deterioration.
Fortunately, there's a way to work around this problem: downspout extensions. Downspout extensions allow roof water to drain 6 to 8 feet away from a house as opposed to just a foot away from a house. As a result, they keep a foundation protected, prolonging its lifespan.
Foundation Crack Repair
Whether you utilize downspout extensions or not, cracks are bound to form in your foundation. There is little you can do to avoid this.
However, there is something you can do to prevent cracks from getting worse: you can have them repaired. Foundation crack repair not only strengthens the structural integrity of a foundation, but it also prevents the inward flow of water as well.
Waterproofing Membrane Installation
Want to keep foundation crack repairs to a minimum? If so, you should consider installing a waterproofing membrane. A waterproofing membrane is essentially a waterproof coating that you put over your basement wall. It not only prevents the inward flow of water, but it also reduces the formation of cracks.
These membranes last for around 10 years, after which they can either be removed or replaced with a fresh coating. Interested in installing one? A basement waterproofing company can help.
In Need of Basement Waterproofing in Chicago?
Are you interested in waterproofing your basement? In need of basement waterproofing services in Chicago? If so, ULB-DRY Waterproofing is the company to call.
Our team has waterproofed thousands of basements throughout the Chicago area, installing sump pumps, repairing foundation cracks, and completing a variety of other tasks. If you're looking to turn your basement into a habitable place, we're the people to see.
Contact us now to get the process started!