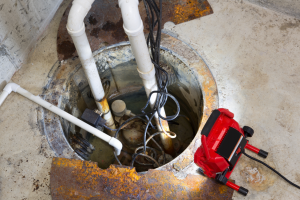 Maybe you're thinking of waterproofing your basement, but are skeptical as to whether or not basement waterproofing would actually make a difference? After all, is it even possible to prevent the natural flow of water?
The answer is a bold and unflinching "yes"! Basement waterproofing is hugely advantageous.
Wondering how basement waterproofing can benefit you? Then read below. We're going to review the many advantages of basement waterproofing in Cicero, Illinois.
Prevent Flooding
It's simple: if you want to keep your basement from flooding, you will need to have it waterproofed. Basement waterproofing entities not only prevent the inward flow of water initially, but they also flush water out in the event that it makes its way in during a severe thunderstorm. In essence, waterproofing your basement provides it with double-protection against heavy rain and other unfortunate circumstances.
Some waterproofing entities to consider include sump pumps, drain tile, and downspout extensions. If you have cracks in your foundation, you could also consider utilizing foundation crack repair services.
Reduce Mold Buildup
As you might know, basements are especially prone to mold buildup. The reason for this? Moisture, of course. The fact of the matter is that mold grows where water goes, and because water commonly goes into basements, so too does mold.
Fortunately, it's fairly easy to do away with mold growth in a basement. All you need to do is have the basement waterproofed. Sealing moisture out with a waterproofing membrane and forcing it out with a sump pump will ensure that mold isn't able to thrive in your basement.
Avoid Musty Smells
It's not just mold that follows moisture, but musty smells as well. This is particularly true if moisture is allowed to linger over a prolonged period of time. Therefore, in essence, basements are exceedingly vulnerable to taking on musty smells.
The good thing, however, is that you can eliminate these musty smells with the installation of a few basement waterproofing entities. A sump pump, drain tile, and a few sealed foundation cracks will all help to resist moisture and eliminate foul odors.
Improved Energy Efficiency
Not only does basement waterproofing assist in preventing the inward flow of water, but it also assists in improving a home's overall energy efficiency. Foundation crack repair and waterproofing membrane installation, in particular, can have a great impact on a basement's insulative capabilities.
This is because these two procedures work to seal out heat and cold, taking some of the stress off furnaces and air conditioners, and allowing them to operate on less energy than they otherwise would. In short, if you want to optimize your home's energy efficiency, basement waterproofing will help.
Increased Home Value
Knowing what you know now, which type of home would you spend more money on: a home with a professionally waterproofed basement, or a home with an un-waterproofed basement? Chances are, all other things being equal, you're going to go with the waterproofed option.
This is true for most home buyers, as they realize how much extra value a waterproofed basement has compared to the alternative.
In short, waterproofing your basement increases the value of your home. If you want your home to sell for as much money as possible, it's recommended to have the basement waterproofed.
Waterproof Your Cicero Basement
Are you ready to give basement waterproofing a try? If so, and if you're looking for basement waterproofing services in Cicero, Illinois, we here at ULB-DRY Waterproofing are the people to see.
Over the years, we've waterproofed countless basements throughout Cicero and its surrounding areas. Whether you're looking to install a sump pump, repair foundation cracks, or utilize some other waterproofing entity, our team can help you.
 Utilize our services by contacting us today!