Because they are built underground, and because the ground is naturally filled with water, basements are vulnerable to water damage. Fortunately, there is a way to prevent water from making its way into basements: basement waterproofing. 
There are all sorts of Western Springs basement waterproofing solutions on the market, each of which provides something a little different in terms of functionality. Curious as to what the common waterproofing entities are in Western Springs, Illinois? Read below to find out!
Sump Pumps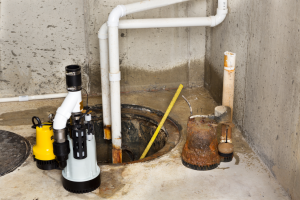 One of the keys to any basement waterproofing project is the installation of a sump pump. Sump pumps are used to pump out water after it has entered a basement, preventing your basement from flooding.
While some homeowners opt for only a primary sump pump, most homeowners opt for a battery-powered secondary sump pump as well. Having the secondary sump pump on hand allows for water to be pumped in the event of a power outage (which often happens during a storm or flood).
Drain Tile
Another key to basement waterproofing projects is drain tile installation. Drain tile are used to catch groundwater and filter that water away from the home. Unlike sump pumps, these implements completely prevent water from making its way into basements in the first place.
Drain tile can be installed both inside and outside of a basement. Both forms of installation are effective. However, if you really want to safeguard your home against groundwater, it's wise to install on both the inside and outside of your basement.
Foundation Crack Repair Services in Western Springs
Water can make its way into a basement through a number of different avenues. However, some of the most prominent entry points are foundation cracks. The more cracks there are in a foundation, the more water a basement is bound to take on.
This is why basement waterproofing often involves foundation crack repair. By utilizing foundation crack repair services, you can stabilize your foundation and prevent the inward flow of groundwater.
Crawl Space Encapsulations
Crawl space encapsulation is not a standard component of basement waterproofing. However, many Western Springs homeowners opt to encapsulate their crawl spaces in order to improve insulation, prevent the entry of outdoor pests, and prevent the buildup of mold and mildew.
Waterproofing Membranes
Like crawl space encapsulation, waterproofing membrane installation is not a necessity of basement waterproofing. However, waterproofing membranes do provide benefits, and they are used by many homeowners.
What is a waterproofing membrane, you might be wondering? It's essentially a waterproof coating that you adhere to your basement walls. It prevents the inward flow of water by covering any foundation cracks that may appear, typically for a period of up to 10 years.
Downspout Extensions
Water makes its way into basements from a number of different directions. Some of the most water-dense areas of a yard are the spots directly at the bottoms of downspouts.
Water runs off of the home's roof, through its gutters, down its downspouts, and directly into the ground. Unfortunately, because the downspouts empty right next to the foundation of the home, they tend to cause water damage to the home itself.
Fortunately, there's a way to redirect this water to a point further away from your home: downspout extensions. While they're not used by all homeowners, they can be hugely beneficial to those whose homes that have drainage issues.
Utilize the Services of a Basement Waterproofing Company in Western Springs
Are you interested in utilizing basement waterproofing soultions in your home? Looking for basement waterproofing services in Western Springs, Illinois? If so, we here at ULB-DRY Waterproofing are the people to see.
With more than 25 years of experience on our side, we have installed thousands upon thousands of waterproofing entities in basements throughout the Western Springs area. Our team looks forward to assisting you.
Contact us now to get the process started!