You might have heard of basement waterproofing, but do you understand its significance? Do you know why basement waterproofing is so important?
If you want to turn your Westmont, Illinois basement into an inhabitable place, you must waterproof it. Waterproofing your basement eradicates a number of problems, making your basement a more safe, protected, and sanitary place.
To illustrate this idea, we're going to discuss what happens if you don't waterproof your basement. Let's begin.
What Happens if You Don't Waterproof Your Basement?
A number of different issues that can arise if you don't adequately waterproof your basement. The most common of these issues are as follows.
Your Basement Could Be Left Vulnerable to Flooding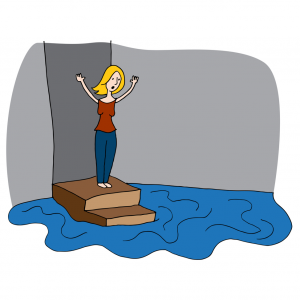 The simple fact of the matter is that if you don't waterproof your basement, it will most likely be left vulnerable to seepage or flooding. Water will seep through cracks in your home's foundation and will eventually come to rest on your basement floor.
If you don't have drain tile and a sump pump available to expel this water out, it will remain in your basement, accumulating to the point where it can ruin your valuable possessions.
Mold Might Grow in Your Basement
Water breeds mold. It's really as simple as that. For this reason, if you want to avoid mold growth in your basement, your basement should be waterproofed.
The more effective you are at keeping water out of your basement, and the better job you can do of getting water out of your basement, the less mold you'll encounter. All you'll have to do is install drain tile, install a sump pump, and repair any cracks that may exist within your foundation.
Musty Odors Might Plague Your Basement
Not only does water breed mold, but musty odors as well. If you allow water molecules to exist in your basement for long enough periods, they will eventually cause foul odors to arise.
This is an extremely common problem with basements, and one that can be avoided through the simple act of basement waterproofing.
Dust Might Accumulate More Rapidly in Your Basement
Dust comes from a number of different sources. However, a great deal of dust comes from airborne moisture, in particular. Therefore, if you want to eliminate a good deal of the dust in your home, it helps to reduce the amount of moisture in your home's air.
This can be done with the use of dehumidifiers. Simply install them in your basement, allow the air to cycle through them, and empty them on a regular basis.
Your Possessions Might Get Ruined
Whether you use your basement as a recreational room or as a storage room, it is likely to contain some valuable possessions. Unfortunately, if your basement is not waterproofed, it leaves these possessions in a constant state of water damage vulnerability.
However, with the simple installation of a dehumidifier, a sump pump, and drain tile, you can render your basement-dwelling possessions almost completely safe from harm.
Your Foundation Might Crumble
A big part of basement waterproofing is foundation crack repair. By repairing the cracks in your basement wall, you not only prevent the inward flow of underground water, but you also maintain the structural integrity of your foundation itself. In doing so, you preserve your home for years to come.
Looking to Waterproof Your Westmont Basement?
Are you interested in waterproofing your basement in Westmont, Illinois? If so, we here at ULB-DRY Waterproofing are the people to see.
We have over 25 years of experience in the waterproofing of basements, having waterproofed thousands of basements throughout the Westmont area. Whether you're looking to install a sump pump, install drain tile, or fix foundation cracks, we can help.
Contact us now to get the process started!