Unless you live in a new home or an extremely dry climate, your basement likely requires the services of a basement waterproofing company. After all, rainwater is constantly flowing into the soil, making its way into basements across the country.
Maybe you don't believe this is an issue and you're not convinced you need a remedy. Perhaps you think you can do without basement waterproofing measures? There's really only one way to know for sure: you should look for specific signs.
If you answer 'yes' to any of the following questions, you are, indeed, in need of basement waterproofing services in Wheaton, Illinois.
Is It Moldy?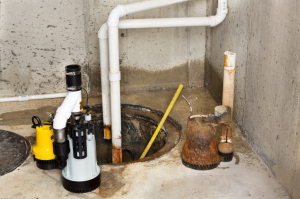 A sure sign that moisture is making its way into your basement is if your basement contains mold. Mold thrives in moist environments, making basements some of the most common places in the home for mold growth.
You shouldn't have much trouble detecting mold. It's usually dark green and mossy, and can usually be found on floors and walls.
If you want to avoid mold growth in the future, basement waterproofing is key. Only by preventing the inward flow of moisture can you prevent unsightly mold spores.
Does it Smell Musty?
Generally, when mold arrives, it is accompanied by an odor. In most cases, this is a musty odor; one that overpowers every other odor in its proximity. Therefore, if you smell musty odors in your basement, it's probably due to the fact that water is leaking inward.
While an air freshener can help to counteract such odors, the better solution is to waterproof your basement. By keeping water away, you eliminate the chances of musty odors appearing as a result of mold. Any reputable basement waterproofing company can help you handle the task.
Are Its Walls Cracked?
Are your basement walls covered in long, wide cracks? If so, water damage is very likely the culprit. The more that water erodes your home's foundation, the more your foundation is going to crack.
Fortunately, if caught early, foundation cracks can be repaired, preventing the inward flow of moisture, and strengthening your home as a whole. A basement waterproofing company can get the job done for you.
Has Efflorescence Appeared?
Go and take a look at your basement walls. Are they covered in a white, powdery substance? If so, you're dealing with efflorescence, which is a sign that you need of basement waterproofing services.
Efflorescence forms due to water seeping into your concrete basement walls. As this water eats away at your walls, it leaves behind a deposit of salt. The existence of this salt is a sure sign that your walls are deteriorating, and in need of protection from water.
Are Its Walls Sagging Inward? 
A sure sign that your basement is being inundated with water is if its walls are sagging inward. Sagging basement walls are indicative of extreme moisture damage that has occurred over decades and decades.
If your walls have reached this point, they might require a little more than waterproofing services. However, after you have them fixed, waterproofing should be near the top of your list of priorities.
Make Use of Basement Waterproofing Services in Wheaton
Are your basement walls cracked? Have you encountered mold growth in your basement? Looking to make use of basement waterproofing services in Wheaton, Illinois? If so, we at ULB-DRY Waterproofing are the people to see.
Our team is well-versed in the waterproofing of basements, having waterproofed thousands of basements throughout the Wheaton area. Offering a wide variety of services, our goal is to prevent water from makings its way into your basement.
Contact us right now to discuss your needs!