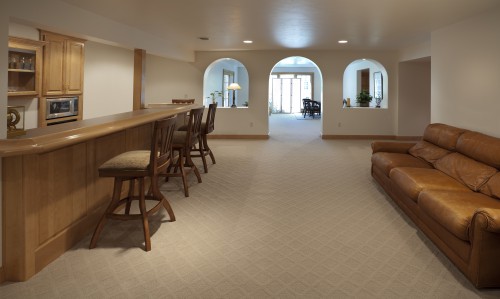 Chances are, you don't get a lot of use out of your basement. It's dark and it tends to get damp. If anything, you use it to store a few items and that is it. However, you could be missing out on what could become your favorite room in the house.
Problems with Water in the Basement
Excess rain, melting snow and other issues can mean that water invades your home through the permeable walls of your basement. This doesn't just lead to unpleasant scents; it can, if left long enough, cause serious structural damage to your home. Repairing this damage can lead to excessive expenses or can make your home lose value.
Plus, when the basement is not waterproofed, that is room in your home that you cannot really use.
Waterproof Your Basement
When your basement is not properly sealed, water can seep in from outside. This can cause damage to carpets, boxes and furniture and leave behind unpleasant damp and moldy smells. This sort of problem is not at all uncommon; research shows that three out of five homeowners experience some type of seepage in their basement at some point.
We offer basement waterproofing services that keep water outside your home where it belongs. Our process keeps your basement dry, preventing damage to your home and unpleasant or dangerous mold. Your home will be protected from losing value. Plus, you'll get new, usable space in your home.
Enjoying More Space in Your Home
When your basement is professionally waterproofed, you can safely install carpet or nice flooring in the area. A finished basement adds value to your home and increases your enjoyment.
Your new space can be used for any number of purposes:
a sewing or craft room.
a fun den or recreational room for the family.
a "man cave" where you can escape and enjoy a space that is just for you.
a bedroom for a teen who is craving space and independence.
ULB Dry Waterproofing has over 35 years of experience in the waterproofing industry. We have the experience, knowledge and expertise to complete your basement waterproofing project quickly and correctly, allowing you to enjoy a whole new area of your home.
We provide top quality Basement Waterproofing in Lombard or the surrounding areas. Get in touch today to learn more about how you can learn to love your basement. We offer consultations and estimates at no charge.